Las Vegas, April20, 2012:
Selected by a panel of the engineering expert judges, journalists and editors from around the globe, MicW i Series Professional Microphones receive the"Cool Stuff" Award from Radio World Newspaper at the NAB 2012 in Las Vegas.Dr.QunliWu,CEO of MicW Audio accepted the Award from Editor in Chief, Mr. Paul J. McLane.



Fortunately but not surprisingly, MicW i-series is the winner of radio's most prestigious technology honor. QunliWu, CEO of BSWA TECHNOLOGY CO.LTD accepted the award on behalf of MicW Audio,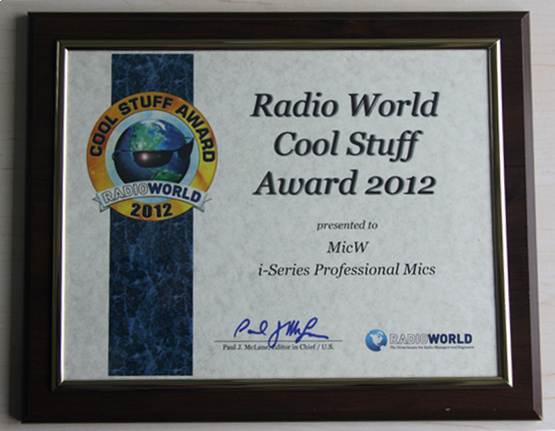 The Radio World's "Cool Stuff" products were selected by the panel of audio experts as notable for their design, features, cost efficiency and performance in serving radio broadcast users. MicW I Series Microphones were selected as the winning products due to their innovative design for improving audio quality for iPhone and iPAD as mobile journalism tools. Only 17 products were chosen from among thousandsof new products on display at the NAB Show.



Making the better sound for mobile journalists, MicW i-series microphones serve radio broadcast users on recording forum/press conferences, HD video productions and making reviews,live broadcastingwith their iPhones and iPads.



"We are extremely pleased to have won this award, "said Dr. Qunli Wu, "the Award affirms MicW's achievements on microphone designs and manufacturing for mobile journalists and musical recordings. With increasing using the smart phones in broadcasting industry, more and more journalists will use smart phones with our microphones for their daily work."



Currently, MicW i Series has six models, ranging from iShotgun(pending), iLavalier, recording mic, and measurement mic.



About MicW
MicW Audio is the recording microphone subsidiary of Beijing-based BSWA Technology Ltd, which has been manufacturing precision test and measurement microphones for over 14 years. Since 2009, MicW Audio has been actively marketing their products internationally, offering six ranges of mics for recording, broadcasting, live performance and mobile applications. The i-Series microphones are specially designed for iOS and Android devices. The professional Series includes L-Series lavalier microphones, M-Seriesmeasurement microphones, N-Series nickel diaphragm highperformance microphones, and T-Series titanium diaphragm large diameter microphones. The MicW microphones are represented by our distributors around the world.