MicW iGoMic™ wins esteemed Digital Camera Grand Prix 2015 Awards Gold Prize in the category of Peripheral Devices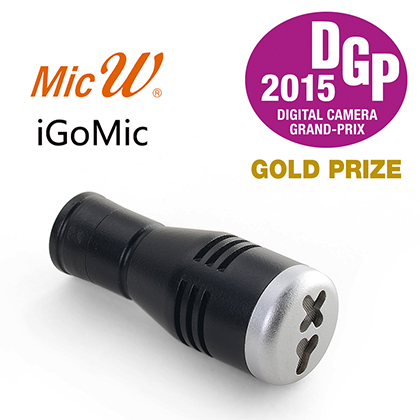 Beijing, Nov 28, 2014. MicW audio announced today that the company's iGoMic™ X-Y stereo microphone launched in January 2014, wins Digital Camera Grand Prix 2015 Awards Gold Prize in the category of Peripheral Devices.
The Digital Camera Grand-prix is a prestigious award in Japan. The Digital Camera Grand-prix Committee consists of photographers, critics, and distribution channel members, including mass merchants, who are experts on digital-imaging related products in Japan. Leading products, from a consumer's point of view, are reviewed. The Technology Prize is presented to epoch-making, innovative, newsworthy, and outstanding technological approaches.
The iGoMic™ ranked first place due to the great audio performance and friendly in usage. It comprises an X-Y stereo-matched pair of microphone capsules specially designed for GoPro cameras. Using a matched pair with capsules configured at 90º X-Y coincident, the iGoMic™ provides a wide stereo image with natural depth and is ideal for recording music, sports events and ambient sound. It is small, lightweight and rugged. It also can be used with DSLR and video cameras.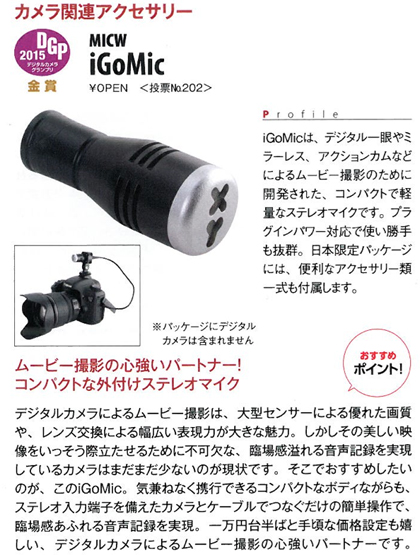 About MicW Audio
MicW Audio is a recording microphone subsidiary of Beijing-based BSWA Technology Ltd, a manufacturer of precision test and measurement microphones. Since 2009, MicW Audio has marketed its products internationally, offering different microphone series designed for a range of recording, broadcast, live performance and mobile applications. These currently include the i-Series microphones for use with iOS and Android devices, the L Series lavalier microphones, M Series measurement microphones, N Series nickel diaphragm high performance condenser microphones, and T Series titanium diaphragm large diameter condenser microphones.
Continued developments in the parent company's transducer technology have firmly established MicW Audio as a "go to" brand for professional sound recordists, broadcasters and producers requiring high-quality mobile microphone solutions.